Steven Spielberg & Martin Scorsese: the joy of celluloid
It's risky, imperfect, expensive – and the stuff of a thousand classics. As Tacita Dean's tribute to celluloid opens, some noted movie-makers give thanks for film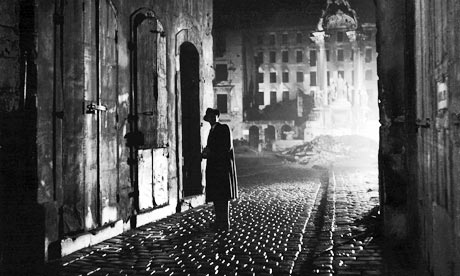 Steven Spielberg Director
My favourite and preferred step between imagination and image is a strip of photochemistry that can be held, twisted, folded, looked at with the naked eye, or projected on to a surface for others to see. It has a scent and it is imperfect. If you get too close to the moving image, it's like impressionist art. And if you stand back, it can be utterly photorealistic. You can watch the grain, which I like to think of as the visible, erratic molecules of a new creative language. After all, this "stuff" of dreams is mankind's most original medium, and dates back to 1895. Today, its years are numbered, but I will remain loyal to this analogue artform until the last lab closes.
The biggest difference I have found when working photochemically versus digitally on motion pictures is the length of time the takes can last. Broadly, a 1,000ft roll of 35mm film lasts around nine-and-a-half minutes before running out, while a digital tape or recording card or hard drive can last from 40 minutes to over an hour and a half. This translates to a very different rhythm on the floor; the pressure to "cut" to save film is alleviated.
Archiving digital images is a technological dilemma. The idea of that discovered shoebox of pictures, or wedding album, will not exist digitally in your camera or on your computer or in a "cloud": you should print them. I often feel a photochemical image contains the mass of the subject and dimension; a digital image often feels as if it is mass-less. This could be nostalgia or simply how I learned to see. Others will not have this learning: they will probably never experience a photochemical image. Is this loss a tragedy, a revolution, an evolution? What have we lost, and what have we gained?
I will miss walking on to a photochemical film set. It has a magic to me. When the director says: "Action", and the film is rolling, it feels like something is at stake. It feels important and intense. In a way, death is present in the rolling of that film – we live, right now – and the director says: "Cut". And that moment in time is captured on film, really.
Film? 1974, 27 years old, first break as a cameraman, major TV documentary, stone age tribe, expedition, only three of us, director, camera, sound, no assistants, incredibly remote, hauling 500kg of gear across world, air, road, sea, river, hike deep into rainforest, scorching heat, intense humidity. Sixteen-millimetre, 200x400ft rolls, stored in coolest place, every foot used, no waste, Eclair camera, three magazines. Arms in black changing bag, open can, lift out, peel off tape, load mag, close lid, pull out arm, unzip bag, finish lacing, snap mag on camera, lift on to shoulder, turn over, shoot! Is it there, did we get it? Will it be any good? No way of knowing, just wait, see and shoot.
Three months of tribal ways, incredible life-changing experience, finish, farewells, canoes back down river, return home, 80,000ft to lab, develop and print, wait, terrible uncertainty, what if? At last: rushes, into cutting room, everybody there, stomach in mouth, print loaded on Steenbeck, blacked-out room, run it, and bang, there they are, those faraway people and places, it has come out, it is there, it's wonderful, everybody happy, waves of relief, complete and utter magic, it's film. Outside in the street private tears of relief and joy, that's it, I'm away, I'm a cameraman.
Later in the darkroom's red glow, printing my stills, black-and-white portraits of the tribe conjure up and materialise in the tray, this wondrous photochemical reaction of liquid solution, emulsion, celluloid, silver grains, gelatin and again the very same magic. It's film.
From documentaries to movies, from a crew of three to what feels like 300, and until very recently only on film and mostly 35mm. Sometimes, when I want to work with a lighter, smaller, lower profile or seek that grittier, uniquely textured image, I choose 16mm. When I photographed Mike Leigh's 2004 film Vera Drake, nobody ever flagged up or gave a damn that it had originated on the cheaper, smaller "shoestring" 16mm format, because it created exactly the right cinematic look for the film. In the end all that matters is the world created up there on the screen. This was reinforced to me with the success of The Hurt Locker in 2008 and Black Swan in 2010, both shot on 16mm, both winning countless awards, including cinematography. 16mm is very much alive and well, and it's crucial it remains so, yet its future is seriously under threat. Before too long, I fear it will be film itself that's cast out, and in the stampede towards the blinding, flashing light of the digital age, the fabulous physical and spiritual magic of it will be trampled underfoot for ever.
"What do you mean, 'By the hand?'" a friend asked when I told her that recently I had been making black-and-white optical prints, for which the hand was crucial. The printer's hands, I explained, not technological wizardry, manipulate light and shadow; and the hand has human limits. Each print varies slightly. The limits and idiosyncrasies of optical printing were a welcome change from the maddeningly infinite possibilities and perfectionism of digital printing.
My greatest fear is that as a discarded medium and corporate outcast, analogue will no longer be essential to visual education. Many young people will not know the difference between hand and button, they will only know the button; and their use of technology will be constricted by their ignorance of hand work. They will not perceive the qualities of optical photography because their eyes will only know digital imagery.
When I last visited Berlin, I got lost on the way to a friend's house. While staring at my iPhone map I heard a voice call: "Mitch, Mitch!" and looked up to find him waving at me from his car as he waited for the light to change. I climbed into the car. A GPS receiver has more than once helped me out of a jam, but it is hard to describe how lovely it felt to pull my eyes off my screen and let a friend guide me.
The so-called "digital" is not a mere technical medium, but a medium of thought. And when modern democracies turn technical thought into a separate domain, those modern democracies incline towards totalitarianism.
Heather Stewart Programme director, BFI
Technological change brings gains and losses. I look forward to those who can transform digits into works of art, and to those who still use film in all its richness.
Martin Scorsese Director
The cinema began with a passionate, physical relationship between celluloid and the artists and craftsmen and technicians who handled it, manipulated it, and came to know it the way a lover comes to know every inch of the body of the beloved. No matter where the cinema goes, we cannot afford to lose sight of its beginnings.